Icelandic low-cost airline PLAY launched operations in June 2021. A digital focus is central to the airline's business model, with progressive, customer-centric solutions designed to both enhance the passenger experience and increase ancillary revenue. Ahead of his participation at the co-located FTE EMEA and FTE Ancillary & Retailing events (Dublin, 23-25 May 2023), Georg Haraldsson, Chief Information Officer, PLAY, explains how the airline is navigating the tech landscape, its approach to retailing, and the ways in which it is looking to maximise inflight sales opportunities.
Register for FTE EMEA and FTE Ancillary & Retailing – one registration provides access to both events >>
Haraldsson is speaking in the FTE Ancillary & Retailing conference, in a session focused on 'Navigating the tech landscape and airlines' journey to becoming fully-fledged digital retailers'. "I would like to focus on the valuable customer data airlines have in their IT systems, and how airlines should use that data to provide an exceptional user experience and communication that brings actual value to the passenger," he explains.
PLAY has a customer-centric approach to retailing and is building its IT infrastructure to support it in "knowing our customer", so the airline is able to offer them the best value and user experience.
Haraldsson highlights the importance of technologies such as Web 3.0, Metaverse, NFT and Crypto in terms of airlines becoming fully-fledged digital retailers. "I believe these technologies are very important for any industry, although we are not quite there yet in regards of industry maturity and hardware in the case of Metaverse. New technologies are moving very fast these days and they bring a lot of new possibilities to our business, for example by bringing together Customer Data Platform information and Artificial Intelligence."
Boosting ancillary revenues and enhancing the travel experience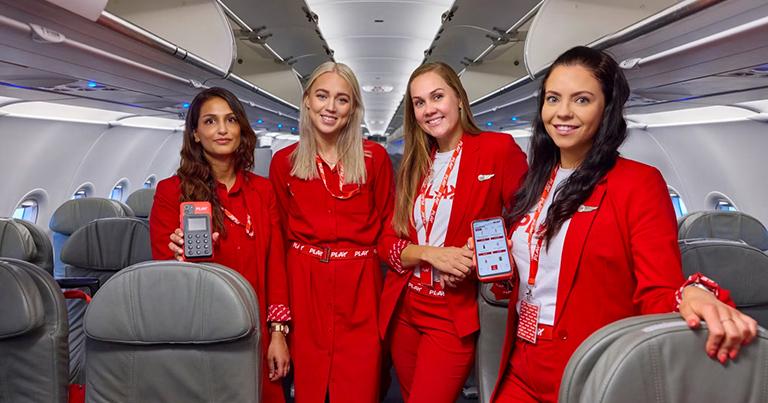 As part of its continuing investment in innovative solutions to help boost ancillary revenues and enhance the travel experience, PLAY recently selected MOST to provide it with onboard retailing and payment solutions.
"MOST is the first step towards our vision of a digital onboard user experience, helping us to reduce waste, eliminate seat pocket printables, increase passenger convenience, and expand revenue management on products being sold onboard," says Haraldsson. "It will also enable us to try out new products with shorter lead times."
As a launch customer for three of MOST's products – most.Retail, most.Pay and most.Onthego – across its entire A320 fleet, PLAY is paving the way for a future of frictionless inflight payment technology. The cutting-edge digital retail platform, payment sled hardware and payment gateway technology provide passengers with a more convenient and streamlined travel experience, while crew can efficiently complete transactions in the cabin. A sophisticated special offer engine and forecasting tools will also help PLAY to maximise inflight sales opportunities as it grows.
Haraldsson adds that, building on this innovation, PLAY is exploring other ways to maximise inflight sales opportunities. "We are exploring new technologies in combination with clever usage – AI-driven in the near future – of customer data to expand the product/service offering to our customers. The key is to combine the data-points from various systems to provide relevant communication that brings actual value to the customer."
Register for FTE EMEA and FTE Ancillary & Retailing – one registration provides access to both events >>