Mini teases a completely new minimalist interior design for the 2025 Mini Cooper.
The key elements of modern and minimalist interior design language for the next generation of Mini models.
The first of these models that make up the New Mini Family are set to debut at the International Motor Show (IAA) in Munich Germany September 1.
The teaser includes two animated digital films that specifically feature the dashboard, driver controls and the signature round OLED screen that is the centerpiece of the new MINI interiors.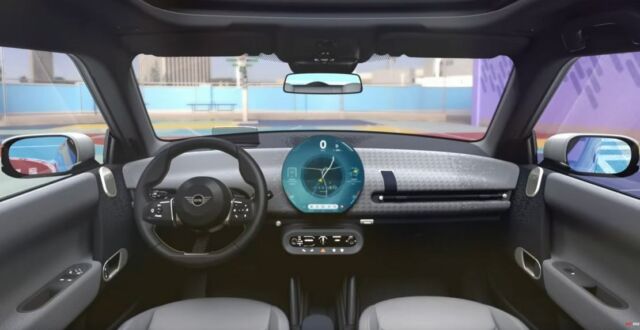 With a more minimalist interior, MINI is "more MINI" than ever before. Looking back to the first Mini in 1959, the car's instrument panel featured three main interior design elements: a steering wheel, a round center instrument and a simple row of toggle switches, or toggle bar. These three elements describe the new design approach today, knitting design simplicity and technology together to bring the original MINI identity to life. The main design elements today include a steering wheel that is now smaller and sportier, a signature round OLED digital display – and a toggle bar just below with a few essential apologue controls.
source Mini