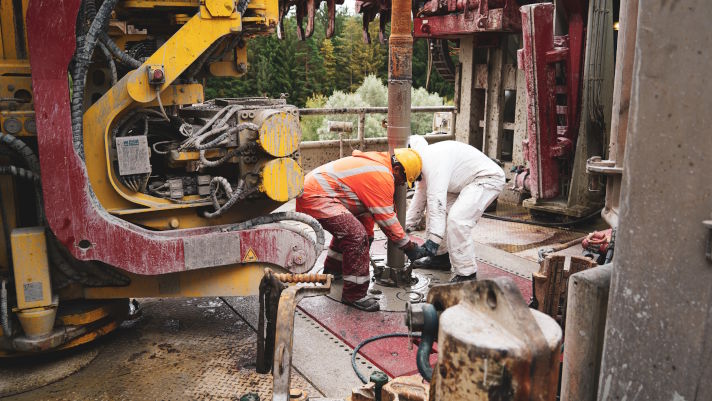 Summer 2023 was the hottest on record, and with extreme weather events ravaging much of Europe in recent months, the case for taking climate action has never been stronger. In the EU, we're doing our part with a commitment to reach climate neutrality by 2050 – and one of the main ways we'll get there is through switching to renewable energy.
However, installing renewables at large scale brings significant challenges with it. For example, we cannot always count on wind and sunlight to be readily available. Geothermal plants, on the other hand, are a steady energy source, but conventional technologies require access to an underground hot water reservoir, which makes their construction possible only in a limited number of locations on Earth.
This is where the Eavor-Loop technology comes in. By harvesting underground heat without the need for a reservoir, this innovative system has the potential to make geothermal power available virtually anywhere – and the EU's Innovation Fund is supporting the effort.
Geothermal energy in Germany
After a successful demonstration project in Canada, pioneering geothermal company Eavor is ready to boost Europe's green transition with its innovative technology. Thanks to a €91.6 million grant from the EU's Innovation Fund, one of the world's largest clean tech funding programmes, Eavor's first commercial-scale power plant is now under construction in Geretsried, southern Germany.
"Without this funding, it is questionable whether the project would have seen the light," says Fabricio Cesario, the Construction Manager. This is because the Innovation Fund has not only provided direct financial support, but also helped to attract further private investment.
Originally from Brazil, Fabricio spends three to four days a week on the project site, overseeing the construction of the new plant with his team of engineers and geoscientists. Coming from all over Europe and across the world, many of them are using technical skills acquired in the oil and gas sector to build this industry of the future.
As it happens, the plant is being built on the very same site that had been chosen for a traditional geothermal project, then abandoned due to the lack of a suitable reservoir. Since the Eavor-Loop system does not require a source of hot water, Fabricio and his colleagues can build on previous research and even use installations from the older initiative.
The new plant will consist of two vertical wells connected horizontally. Once this closed circuit is ready, a special fluid will be circulated through it to harvest heat from deep within the Earth. Thanks to a radiator-like effect, the difference in density between the warm and cold fluid across the system brings heat up to the surface. The heat obtained in this way can then be fed into the local heating network or transformed into electricity.
Fabricio believes that Eavor-Loop's system is a "gateway project that could turn geothermal power from a niche energy source into something that can take its place alongside wind and solar" and eventually replace fossil fuel-powered district heating systems. "It could lay the foundations for the adoption of this technology across Europe," he underlines. Once proven viable in Geretsried, Eavor will invite other energy developers to consider using the technology in their own projects.
From innovation to mainstream
Geretsried's Eavor-Loop plant will be fully operational in late 2026 and, during its initial 30-year life cycle, it will yield almost 65MW of thermal energy and more than 8MW of electricity. As just 1MW can power some 400 to 900 homes in a year, the plant will contribute significantly to the greening of the local heating and electricity grids.
It will also prevent some 45,000 tonnes of CO2 a year from being released into the atmosphere – that's the equivalent of the emissions produced by heating over 10,000 homes with a gas boiler for a year. On top of that, as its closed-loop system does not require energy to work, the plant's own greenhouse gas emissions during its operation phase will be close to zero.
But the benefits don't end there. Compared to conventional geothermal power facilities, as well as other renewable energy sources, the surface occupied by the plant will be minimal, reducing its environmental footprint and impact on the local landscape. Also, Eavor-Loop's drilling technology does not interfere with aquifers and underground rock pressure, removing any risk of water contamination or causing seismic activity.
And what's more, over its life cycle, the project is expected to create 4,000 jobs in Geretsried and the surrounding area.
The EU in all this
In her 2023 State of the Union speech, the European Commission President Ursula von der Leyen stressed the need to invest in green tech to protect our planet while we preserve our future economic prosperity. Industry must be our key partner in the European green transition, and to ensure its continued competitiveness, it needs to turn to net-zero technologies – with EU support.
This is why the Eavor-Loop project will receive funding from the EU's Innovation Fund, but the funding is not the whole story. With the European Green Deal and numerous policy initiatives that stem from it, such as the REPowerEU Plan, the Green Deal Industrial Plan and the Net-Zero Industry Act, the EU is also helping create the best possible conditions for the green industry in Europe to flourish and for investment to multiply at an unprecedented pace.