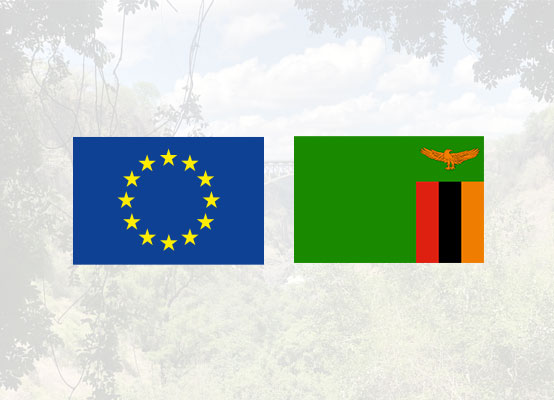 Today, Hon. Collins Nzovu, Zambia's Minister of Green Economy and Environment, and Mr. Wopke Hoekstra, European Commissioner for Climate Action, signed the Roadmap for the implementation of the EU – Zambia Forest Partnership, in the presence of Zambian President Hakainde Hichilema and Ambassadors of European Union (EU) Member States at the State House in Lusaka.
Under the Global Gateway, EU's positive Strategy for delivering trusted and sustainable connections with partner countries, this new roadmap will ensure the effective implementation of the Forest Partnership by strengthening mutual dialogue to address forest degradation, work towards a sustainable forest economy in Zambia and provide technical assistance, policy strategies and general support measures. The EU and its Member States – as part of Team Europe – will join forces and partner with Zambia's Ministry of Green Economy and Environment and other relevant line ministries on the following work streams, which are aligned with Zambia's 8th National Development Plan, to put the Forest Partnership in practice.
Together we will work towards advancing the following objectives:
Good governance environment: Forest policy, governance and management systems;
Economic transformation and job creation: Improved value chains for forest products and services;
Environmental Sustainability: A value to protect; and
Human and social development: Skills, research and outreach.
European Commissioner for Climate Action, Wopke Hoekstra, underlined that "Forests and soils are among the most important carbon sinks on our planet and they are home to an abundance of biological diversity. Without forests, life on earth would be unimaginable. The Roadmap we sign today frames the joint commitment of the European Union and its member states to support sustainable forest management in Zambia. Together, we want to invest in sustainable partnerships, green growth, value addition and the creation of decent jobs in the country."
Hon. Collins Nzovu emphasised that "It is an honour to mark the significant progress we have made in the EU-Zambia Forest Partnership. This roadmap reflects the collective aspirations of our partnership and outlines specific actions, milestones, and responsibilities."
Jutta Urpilainen, European Commissioner for International Partnerships, also expressed her appreciation: "I am happy that we have finalised the EU-Zambia Forest Partnership Roadmap, further to discussions during my visit to Zambia last June. It is another proof of our strengthened mutual engagement. I am proud to say that we already have concrete EU funded projects to implement it. In addition to the support from the European Commission, Czechia, France, Germany, and Sweden have provided important co-funding. This is how Team Europe works, how we join hands with Zambia and make Global Gateway investment strategy work in action."
While jointly developing the Roadmap, the EU and its Member States, notably Czechia and Germany already designed, in close consultations with the Ministry of Green Economy and Environment and other relevant stakeholders several concrete projects, which will be signed in 2023. Both of them follow an integrated landscape approach along the Agriculture, Forestry, Biodiversity, Water and Climate Nexus. Consultations with France and Sweden are under way for additional projects to be signed in 2024.
Background
President Hakainde Hichilema, the EU and its Member States signed the "Glasgow Leaders Declaration of Forests and Land Use" on 2nd November 2021 at COP26 in Glasgow, UK: https://ec.europa.eu/newsroom/env/items/731546/en. At COP26, the EU also announced Forest Partnerships to address global challenges, including climate mitigation and biodiversity, while meeting local needs.
The President of the Republic of Zambia, Hakainde Hichilema, and the President of the European Commission, Ursula von der Leyen, signed the "Memorandum of Understanding (MoU) for the EU-Zambia Forest Partnership" exactly one year ago on 8th November 2022 at COP27 in Sharm-el-Sheikh, Egypt: https://ec.europa.eu/commission/presscorner/detail/%20en/ip_22_6653.
The Forest Partnerships ensure sustainable forest management, generate job creation through sustainable forest-related value chains, reduce deforestation and forest degradation, and facilitate trade in legal and sustainable forest products.
Today's roadmap will further strengthen cooperation and contribute to the implementation of the EU Deforestation Regulation.
EU funded projects under the EU-Zambia Forest Partnership under implementation:
Zambia for Agroforestry, Biodivesity and Climate (Z4ABC) project
EUR 4.3 million; implemented by the Centre for International Forestry Research (CIFOR);
Sustainable Agriculture and Forest Ecosystems (SAFE) project
EUR 39.7 million (global) out of which approx. EUR 4 to 5 million for Zambia; implemented by German International Cooperation (GIZ);
EU funded projects under the EU-Zambia Forest Partnership, to be contracted in 2023:
Sustainable Landscape through Integrated Management (SLIM) project
EUR 7 million; to be implemented by Czech Development Agency (CzDA);
Integrated Water Catchment Management and Landscape Protection in Zambia (AWARE 2.0) project
EUR 14 million; to be implemented by German International Cooperation (GIZ);