The massive 6.2-million-square-foot FoxConn plant in Lordstown, Ohio — once the place where General Motors made 300,000 Chevy Cruze cars a year — will be the manufacturing home of Monarch's fully electric MK-V tractor.
Mark Schwager, co-founder and president of Monarch, of which CNH has a minority stake as well as a multiyear licensing agreement for the company's battery technology, says the first tractors could be rolled off the FoxConn assembly line by the end of this month.
Thus far, the company has delivered 55 of its fully electric, autonomous MK-V tractors since they launched in December. The tractor is being sold exclusively in California for now largely because of its dearth of servicing and support for the machines. It has gotten a foothold in some of the state's largest vineyards, which should come as no surprise as Carlo Mondavi, member of the famed Mondavi wine family, is the company's chief farming officer and one of the company's co-founders.
But Schwager says the company hopes to expand market by market this year, with the hopes of going nationwide by the end of the year. Its MK-V, powered by a 100-kwh battery, can provide 40 hp (30 kw) all day, but it can peak at up to 70 hp (52 kw). It has a 540-rpm PTO with a hydraulic interface, and it is equipped with the latest autonomous and robotics hardware, and software for autonomous operations.
"I would think of it less like an autonomous car and more like an industrial robot," Schwager says. "Which is much more the type of environment we see our tractor operating in, mostly because a farm is a controlled environment."
About 90% of the global tractor market is below 100 hp, which he thinks is the sweet spot for electrification. "Right now, we think everything below 100 hp or below 120 hp is ripe for electrification, and I think we can develop batteries that can produce the duty cycle for farmers to have the all-day operation for any of those vehicles that size," Schwager says, adding that the tractor is also being used on specialty crop farms and even some dairies.
"The biggest success thus far is farmers have recognized the value proposition of what we're offering and are understanding how much the tractor can lower their operational costs, which is why we're seeing tremendous adoption," he says. "You can't just have electrification because the value proposition just is not high enough. It has to be electrification and automation, and data insights all on top of each other."
Growing electric presence
Another California company, Solectrac, recently made a big splash at New York Farm Show with a space large enough to put on a ride-and-drive of its own electric tractors.
Solectrac went commercial 18 months ago and thus far has sold about 1,000 units, CEO Mani Ayer says. It sells a 25-hp tractor, the e25, that can run for three to six hours depending on application. It also sells an e25 with backhoe and a 70-hp tractor, the e70N, that can run up to 25 mph.
Ayer says government investments in carbon neutrality and carbon emission reduction programs and mandates, as well as rebates available to companies and producers, have partly driven the growth of the electric tractor market.
"There is a lot of momentum in the industry. Now having said that, it's a diesel world," he says.
RIDE AND DRIVE: Solectrac recently made a big splash at New York Farm Show with a space large enough to put on a ride-and-drive of its own electric tractors. (Photo by Chris Torres)
Since March of last year, the company has started selling its tractors through 45 dealers — 85 locations total — mostly in the West and Northeast. He says the company plans to grow its number of dealers to 50 and is focusing more on the Midwest market.
Ayer, who used to head Mahindra, says he has a goal of growing the company into a $100 million business.
"So, opportunities are immense," he says. "It's more about awareness, familiarity and making people comfortable with electric, through our dealer network as well as direct to customers."
No big machines, yet
But don't expect any high-horsepower machines on fields anytime soon. Those will depend on 300- to 500-kwh batteries that are just not available yet.
"Battery costs have come down, the battery cells themselves are getting denser, and the energy output from these batteries is getting better. But it's not there yet," Ayer says.
While Monarch has hitched its tractor's future to autonomy, Ayer thinks autonomous applications on farms are still limited.
"At 2.5 kw to 12.5 kw, you can make something autonomous," he says. "Think of a Roomba in your house. But for true tractors, with a loader, backhoe, implements, making it autonomous is tough. There are many applications where autonomous is not going to be possible. No. 2, the experience of these people, they love to get on the tractor and look at the land behind and see the job done. I don't think autonomous will give them that experience."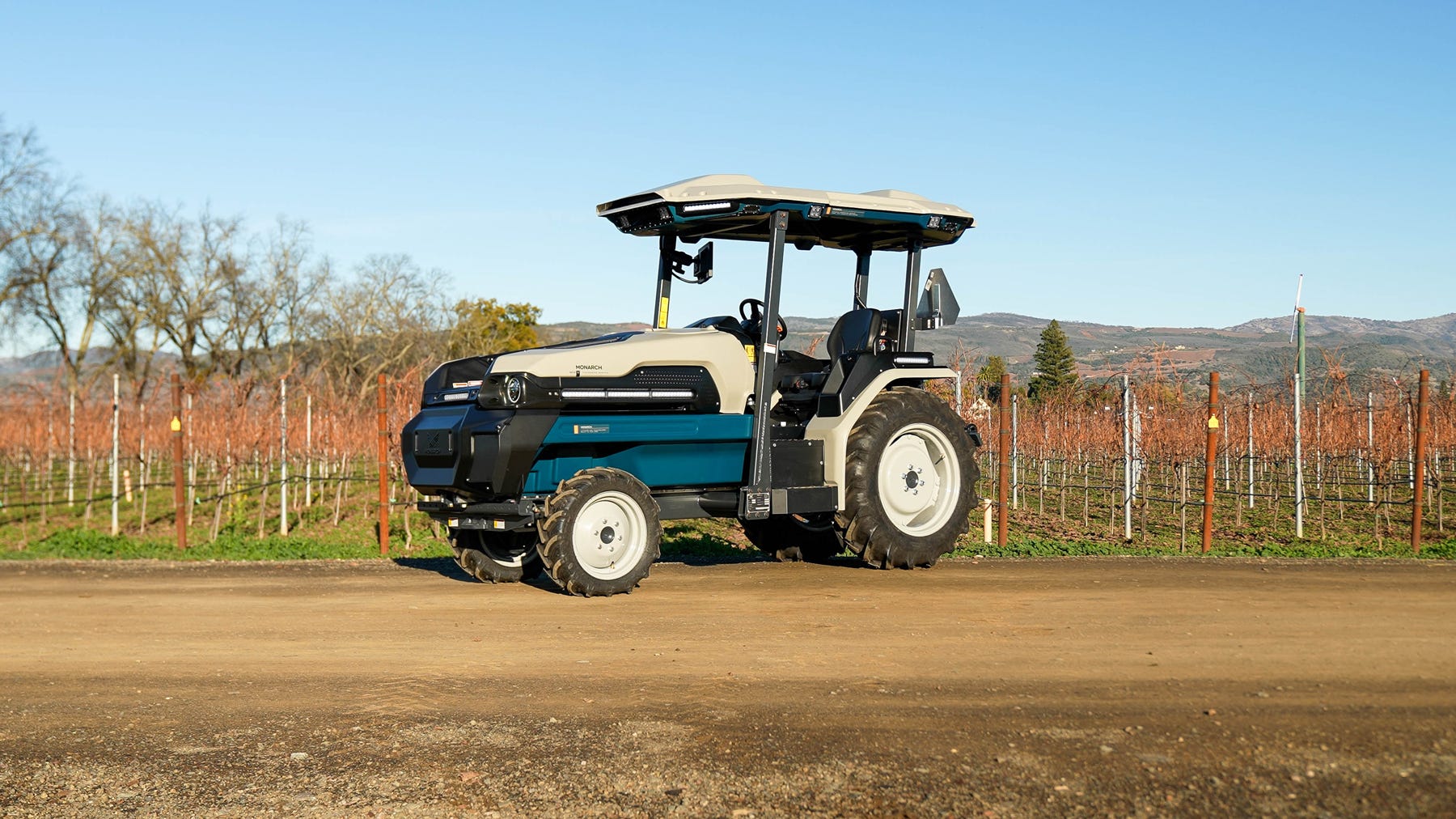 ELECTRIC AND AUTONOMOUS: Monarch has delivered 55 of its fully electric, autonomous MK-V tractors since they launched in December. (Photo courtesy of Monarch)
Schwager, who spent five years with Tesla — and helped design Tesla's Gigafactory in Nevada that makes electric motors, energy storage products, vehicle powertrains and batteries — says the general rule of thumb is that battery density and technology improve 50% every five years. So, by the end of this decade, he expects all-electric tractors in the 200-hp segment.
Anything larger than that, though, is probably unlikely.
"Sometimes there are quantum leaps in technology, but I'm a bit of a realist having been in the industry almost 15 years now," Schwager says. "I think we're very much focused on tractors for the time being, and we're very focused on making farmers successful."