The combination of scalable, cloud-based advanced analytics with Edge compute is rapidly changing real-time decision-making for Industry 4.0 or Intelligent Manufacturing use cases. When implemented correctly, this combination lowers analytics costs, eliminates data transfer latency and enables higher business impact across the manufacturing value chain.
Today, we're excited to announce that Databricks has collaborated with Avanade and Tredence to expand Brickbuilder Solutions to include manufacturing solutions. This builds off other recent expansions to our Brickbuilder program, including new migration, healthcare and life sciences, and financial services solutions.
We know that implementing operational and supply chain improvements can be a daunting task, especially if you consider the need for real-time data ingest and the volume and velocity of data generated by industrial Internet of Things (IoT). If not done correctly, it can lead to loss of uptime, throughput or quality. The new Brickbuilder manufacturing solutions help manufacturers achieve full value from their digital transformation, increasing operational efficiencies and boosting product innovation.
Let's take a further look into Databricks' suite of manufacturing Brickbuilder Solutions.
Avanade Intelligent Manufacturing: improve outcomes across production and customer insights
Every year, businesses lose millions of dollars due to equipment failure, unscheduled downtime and lack of control in maintenance scheduling. Avanade's Intelligent Manufacturing solution supports connected production facilities and assets, workers, products and consumers to create value through enhanced insights and improved outcomes. Manufacturers can harness data to drive interoperability and enhanced insights at scale using analytics and AI. Outcomes include improvements across production (e.g., uptime, quantity and yield), better experiences for workers, and greater insight into what customers want.

Tredence Edge-AI: seamless Edge implementation of AI at operational sites
As manufacturers look to leverage AI-driven solutions at their operational sites, they need to take three things into account: limited IT infrastructure, low latency requirements, and collaboration between data science and operational teams. The Tredence Edge-AI solution solves for these challenges by acting as an Edge to Cloud bridge, enabling low data and insights latency, while also enabling the scalability of deployments required across many manufacturing use cases. It leverages the tools, flexibility, and lower cost of cloud model development and reduces the insights latency that previously restricted the potential of real-time use cases such as process optimization, energy optimization, predictive maintenance and quality assurance leveraging computer vision.
Today, a world leader in metal products manufacturing and recycling is using Edge-AI to quickly build AI models on the cloud and deploy them on Edge devices. This has helped them mitigate cycle time losses and manage quality variance in near real-time. Additionally, Edge-AI was used to orchestrate model triggering and monitor model insights performance and adoption by users, delivering closed-loop feedback to the data science teams for further action. As a result, Edge-AI is set to deliver reduced unscheduled stoppages by up to 50% and wastage and scrap of ~25%.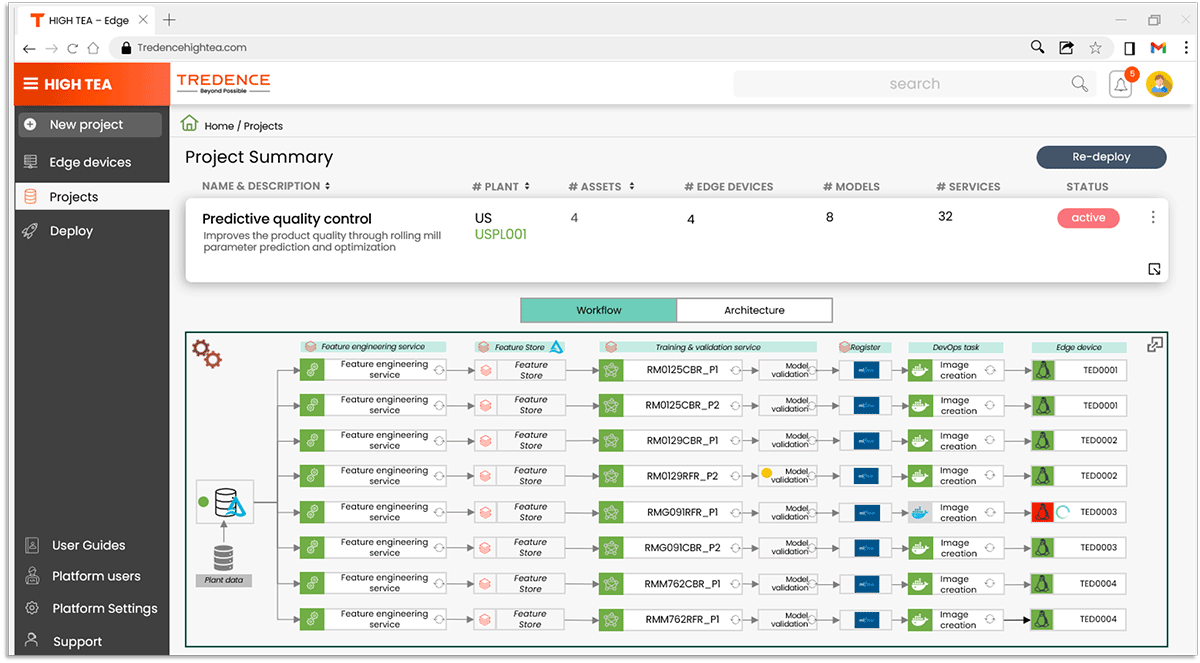 See More Brickbuilder Solutions
At Databricks, we continue to collaborate with our consulting partner ecosystem to enable use cases in manufacturing. Check out our full set of partner solutions on the Databricks Brickbuilder Solutions page.
Create Brickbuilder Solutions for the Databricks Lakehouse Platform
Brickbuilder Solutions is a key component of the Databricks Partner Program and recognizes consulting and solution integrator partners who have demonstrated a unique ability to offer differentiated industry and migration solutions on the Databricks Lakehouse Platform in combination with their knowledge and expertise.
Partners who are interested in learning more about how to create a Brickbuilder Solution are encouraged to email us at [email protected].
*We have collaborated with consulting and system integrator (C&SI) partners to develop industry and migration solutions to address data engineering, data science, machine learning and business analytics use cases.