Financial services tycoon has an uncommon talent for making vast quantities of money while generally staying out of the spotlight
Reviews and recommendations are unbiased and products are independently selected. Postmedia may earn an affiliate commission from purchases made through links on this page.
Article content
Stephen Smith is a remarkably common name in Canadian business. There is Stephen Smith the marketer; a Stephen Smith in structured finance; Stephen Smith the chartered financial analyst; and Stephen Smith the applications team lead.
Article content
Of course, there is also Stephen Smith the Canadian billionaire and financial services tycoon, who has an uncommon talent for making vast quantities of money while generally staying out of the spotlight.
Article content
So much so that when Smith, whose middle initials are J.R., donated $50 million to Queen's University and the Kingston, Ont.-based institution renamed its business school after him, navy blue t-shirts with the words — "Get to know Smith" — were produced in his honour, because no one at his alma mater really knew that much about him.
"Stephen is as modest as they come," John Ruffolo, the venture capitalist who cycles with Smith and knows him socially, said. "You would never know that he was a billionaire. But I do have to tell you — and I don't know how old he is — but that guy is tough as nails, and he is a very good cyclist."
Article content
For the record, that guy is in his early seventies and is very good at many things, including building and buying companies. Smith is the Smith in Smith Financial Corp., which is acquiring mortgage lender Home Capital Group Inc. for $44 a share in a deal valuing the company at $1.7 billion.
He is also co-founder of First National Financial Corp., a mortgage lender and mortgage-backed securities industry disruptor, started in 1988. He is chair and part-owner of Canada Guaranty Mortgage Insurance Co., as well as the largest shareholder in alternative lender, Equitable Bank.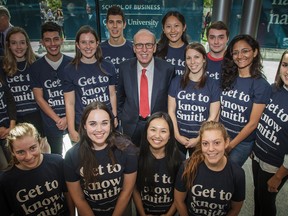 Just in case that is not enough to keep a fellow busy, he is chair of Historica Canada, the not-for-profit behind the Canada Heritage Minutes. Anthony Wilson-Smith, chief executive of Historica Canada, has known Smith for more than a decade, but has never known him to rest on his laurels, or, for that matter, rest at all.
Article content
"He has never actually said this to me, but I would say his biggest fear is that he doesn't want to get bored," Smith said. "He has got all the money he could ever need, and yet here he is making this very big deal right now."
The billionaire is certainly all business at Historica Canada board meetings. Meetings start when they are scheduled to start and end when they are scheduled to end, and, without fail, all the agenda items are ticked.
This thoroughness could, plausibly, have something to do with Smith's childhood. He was a ham radio hobbyist and a computer geek back when computers were the size of small buildings. He got into coding, studied electrical engineering at Queen's, and then studied some more at the London School of Economics before working a series of jobs at Philips Electronics, Canadian Pacific Ltd. and aircraft manufacturer Hawker Siddeley.
Article content
Smith has said the experience of working for someone else taught him that he was smarter than his bosses and better suited to being an entrepreneur. That is the path he took when he started buying and flipping houses in Toronto in the early 1980s, before it became the cool thing to do.
Unfortunately, rising interest rates and bad decisions would wipe him out. Smith declared personal bankruptcy, moved in with his sister and brother-in-law, and wondered if he would ever regain his confidence.
Article content
"When everything is gone, you wonder if you'll ever have the confidence to make the right decision about anything again," he once told a Queen's alumni event. "But the only way to deal with it is to just find a job, get up each morning, and go to work, and, bit by bit, rebuild your self-confidence."
Smith and his partner, Moray Tawse, started First National in 1988 as a mortgage lender, but they spotted an opportunity early on to expand into mortgage-backed securities. By putting the computer geek's coding skills to good use, they were able to stay ahead of the competition amid the technology revolution in financial services.
First National today has a market cap of more than $2 billion. Its co-founder, meanwhile, has a new purchase on his hands, Home Capital Group. His name might be common, but his accomplishments are anything but.
"You would never know how successful Stephen is," Ruffolo said. "He is not a greedy guy, he does this for the intellectual stimulation, and he is incredibly shrewd."
• Email: joconnor@nationalpost.com | Twitter: oconnorwrites